16 Days of Action 2023 - Programme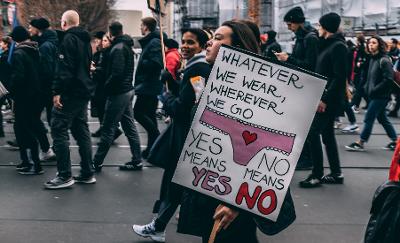 16 Days of Action: Let's Work Together to End Domestic Abuse and Violence Against Women in D&G!
16 Days of Action Against Gender Based Violence is an international campaign that runs from November 25th (the United Nations Day for the Elimination of Violence Against Women) to December 10th (Human Rights Day) and encourages action and awareness against all forms of violence against women and girls i.e. rape and sexual assault; domestic abuse; child sexual abuse; child sexual exploitation; sexual harassment; stalking; female genital mutilation; forced marriage; child marriage; sex trafficking; pornography; prostitution; and other forms of commercial sexual exploitation.
16 Days 2023 Programme
Violence Against women and Girls is of pandemic proportions:
Around the world, millions of women and girls suffer physical or sexual violence.
95% of people trafficked for sexual exploitation in Europe are female.
A woman is killed every three days in the UK by a partner or ex-partner
In 2021-22, 64,807 domestic abuse incidents were recorded by Police Scotland. In 81% of the cases a woman was abused by a man.
In the same period there were 1,544 domestic abuse incidents recorded by the Police in D&G.
And this is just the tip of the iceberg...
This has to stop!
The Violence Against Women and Girls Subcommittee of the Dumfries and Galloway Public Protection Partnership has organized the following awareness raising events for the 16 Days period. All the events are free of charge, but booking is required. For bookings, please follow the links provided.
Date
Event
Time
Delivery Channel / Venue
27.11.23

The D&G 16 Days Social Media Campaign Starts Today!

Follow the campaign! Help us raise awareness by sharing and re-tweeting!

@DumfriesGallowayCouncil @dgcouncil #LightUp

Use #imagine to share you messages and videos

24/7
Social Media
27.11.23

#LightUp

The Council HQ on English St. will be lit-up green, white, purple, and orange to mark the 16 Days Campaign.

Shine a light on Nov 27th and help raise awareness of domestic abuse and violence against women and girls!

To share your pictures, comments, and actions please use:

#LightUp #imagine #imagineDG

PM

D&G Council HQ

English Street

Dumfries

DG1 2DD

+

Online

27.11.23

CONFERENCE: Imagine D&G without Violence Against Women and Children

This event to be held in the Auditorium (G59) at the Bridge, Dumfries will showcase various approaches to gender based violence prevention that apply to young people.

The event will start at 9.30am, but there will be coffee and networking opportunities from 9:00am.

09:30 - 13:30

Room G59 - The Bridge: Glasgow Road, Dumfries, DG2 9AW

Click HERE to book your place.

27.11.23

The Bystander Approach

Screening of the Bystander Film and Discussion:

This event will explore gender based violence, gender norms, rape culture, and ways to challenge and address this.

This event is open to everyone and it will particularly relevant to people who are or would like to become White Ribbon Speakers or Champions.

14:30 - 16:00

Room G59 - The Bridge: Glasgow Road, Dumfries, DG2 9AW

Click HERE to book your place.

28.11.23

Incel....links to vulnerability 'With David Russell

David is the Community Safety & Justice Manager at Midlothian Council and the lead for the development of Restorative Justice. Prior to this he was a senior practitioner with Barnardo's specialising in work with children and young people with harmful sexual behaviour and / or who had experienced sexual abuse or exploitation. David has extensive experience in providing assessments and interventions for vulnerable children, adolescents and adults within the field of sexual harm and violence and has also worked in custodial settings. David provides training independently on a range of themes about sexual violence and has facilitated multi-disciplinary training internationally. He currently sits on the NOTA Scotland executive committee and is the chair of the Community Justice Scotland network. He is also the chair of the national advisory panel for the third sector organisation, Thriving Survivors in which he supports the practice and development of restorative justice in cases of sexual harm.

10:00 - 12:00

Online

Click HERE to book your place.

29.11.23

Psychological Trauma Session - with Rab McColm Lead Psychological Therapist for Psychology Trauma Services NHS Dumfries and Galloway

Rab completed CBT training in 2009 and EMDR in 2011.

He worked in adult mental health psychology from 2007 to 2021 seeing a range of clients with psychological trauma, and also a small service for military veterans.

In 2021 became lead psychological therapist for NHS Psychology Trauma Service.

Work exclusively with military veterans and emergency service personnel who experience trauma and adjustment difficulties as a result of their exposure to trauma within the workplace.

3 days per week provide training, support, consultation and strategic planning for any service within D@G who wish to develop a more trauma informed and responsive service.

This session will cover-

What is trauma - expanding the trauma lens wider than just PTSD.
Incidence of trauma within gender-based violence populations.
phased based approach to working with psychological trauma in gender based populations.
What happens in our brains and bodies when faced with traumatic events - why this becomes "stuck" in our bodies.
How psychological trauma may present in gender-based populations.
Moral injury/hindsight bias for both survivors and caregivers.

13:30 - 15:30

Online

Click HERE to book your place.

30.11.23

Art Drop in @the Stove

NIGHT OF EMPOWERMENT

Dumfries & Galloway Rape Crisis invite you to our Night of Empowerment at "The Stove" Dumfries on Thursday 30th November. The evening will comprise of an exhibition of work by local creatives inspired by the word EMPOWER.

The event will run from 5.30pm until 8pm with guest speakers joining us between 6 & 7pm. Winter warming snacks and refreshments will be available with our compliments. This will be a great opportunity to join with colleagues and network with other agencies in an informal community space.

This is a drop in event so there is no need to commit to the whole time, however we would appreciate an indication of intention to attend where possible so that we have an idea of numbers for catering and if you have any dietary requests.

17:30 - 20:00

The Stove Network,
100 High Street,
Dumfries,
DG1 2BJ

For more details, please contact:

01.12.23

Revenge Porn Webinar - with Kate Worthington

Providing an overview of the issue of revenge porn and the work of the national helpline.

12:00 - 13:00

Online

Click HERE to book your place.

01.12.23

Dumfriesshire and Stewartry Women's Aid Open Afternoon.

Launch of film on Adverse Childhood Experiences featuring Dee Maxwell an actress/comedian who plays part in this short film and will take questions.

Between 13:00 and 16:00

North West Resource Centre

College Drive
Dumfries
Dumfries and Galloway
DG2 0BX

To book your place, please email: admin@dumfrieswomensaid.org.uk

05.12.23

Women Through a Different Lens - Stigma, a shared issue.

VAW, Drugs and Alcohol and Community Justice

Workshop to discuss barriers to services and creating a non-judgemental response to women.

Exploring areas of overlap, challenges along with stigma.

"A vulnerability is only a problem if there is someone there to exploit it"

Limited Numbers; aimed at multi agency staff

13:00 - 15:00

Online Workshop

Click HERE to book your place.

06.12.23

Commercial Sexual Exploitation Workshop:

Building Bridges - Supporting Women Selling and Exchanging Sex

Delivered by Linda Thompson

National Coordinator

Women`s Support Project

Number of places: 16 only

09:30 - 13:00

Online

Click HERE to book your place.

07.12.23

Safe and Together Overview - Part 1

Providing information on the Safe and Together approach to domestic abuse which is being rolled out in Dumfries and Galloway

Please note you must attend both sessions.

Please note event will be capped to 100 participants. First Come, First Served.

13:00 - 16:00

Online

08.12.23

Safe and Together Overview - Part 2

Providing information on the Safe and Together approach to domestic abuse which is being rolled out in Dumfries and Galloway

Please note you must attend both sessions.

Please note event will be capped to 100 participants. First Come, First Served.

13:00 - 16:00

Online

Wigtownshire Women's Aid - Roadshows

Stranraer Library on Wednesday 29th November, 11:00 - 15:00 and 16:00 - 18:00
The Vault Arts Centre, Newton Stewart on Monday 4th December, 11:00 - 14:00
New Town Hall, Whithorn on Thursday 7th December, 11:00 - 14:00

The roadshows will be focussed on the Imagine a D&G Without Domestic Abuse theme and will include interactive activities, stories and poetry, videos and more.

For more information please contact: